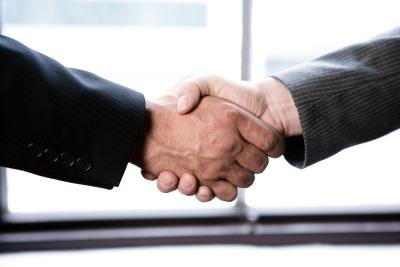 by Contributing Writer
The Judeo-Christian tradition at the foundation of Western civilization provides a moral framework that influences interpersonal relationships and business dealings. As such, it is no surprise that guidelines for conducting business can be found in the Old and New Testaments. From the Ten Commandments to the Golden Rule, Christian beliefs are at the core of many standard business practices.
Deal Fairly with Others
Most large corporations have a written code of ethics that calls for integrity in business practices. Henry Ford noted an "intimate connection between decency and good business." Ray Kroc, founder of McDonald's, said, "The basis for our entire business is that we are ethical, truthful and dependable." This is a theme that runs through the Bible: "Do to others what you would have them do to you" (Matthew 7:12); "Do not accept a bribe" (Exodus 23:8); "Do not steal. Do not lie. Do not deceive one another" (Leviticus 19:11).
Treat Employees with Dignity
The Bible instructs employers to treat their workers kindly and not begrudge them fair compensation. Ford Motor Company's Code of Conduct calls for a "respectful and inclusive work environment" and "providing competitive compensation and work hours." Likewise, one of PepsiCo's guiding principles is respect in the workplace. This is well-supported by scripture, as seen in the following verses: "Do not take advantage of a hired man" (Deuteronomy 24:14); "Do not rule over them ruthlessly" (Leviticus 25:43); "Now when a man works, his wages are not credited to him as a gift, but as an obligation" (Romans 4:4); "I will be quick to testify…against those who defraud laborers of their wages" (Malachi 3:5).
Respect Diversity
Christianity fosters equal opportunity, tolerance and acceptance. This is reflected in corporate policy statements that forbid discrimination based on race, color, religion, sex, national origin, age, disability or genetic information, as required by the U.S. Equal Employment Opportunity Commission. Hershey H. Friedman, Ph.D., of the Brooklyn College Department of Economics, relates the numerous scriptures about caring for strangers to diversity and tolerance in the workplace. The following verses from the Old and New Testaments champion equal opportunity: "When an alien lives in your land, do not mistreat him. The alien living with you must be treated as one of your native-born. Love him as yourself" (Leviticus 19:34); "Have we not all one Father? Did not one God create us?" (Malachi 2: 10); "Don't show favoritism" (James 2:1b).
Give Back to the Community
In Christianity, love for God is expressed by caring for those who are less fortunate, as we see in the teachings of Jesus: "I tell you the truth, whatever you did for one of the least of these brothers of mine, you did for me" (Matthew 25:40). The Bible gives a clear social mandate to take care of the poor: "I command you to be openhanded toward your brothers and toward the poor and needy in your land" (Deuteronomy 15:11); "Religion that God our Father accepts as pure and faultless is this: to look after orphans and widows in their distress" (James 1:27); "If anyone has material possessions and sees his brother in need but has no pity on him, how can the love of God be in him?" (1 John 3:17). Many businesses embrace philanthropy as a core value, donating to worthy causes and promoting social responsibility among employees. One of McDonald's seven basic principles is giving back to communities. Likewise, Morgan Stanley commits to "strengthening and supporting our communities through charitable giving." According to the "Chronicle of Philanthropy," cash donations to charities from corporations totaled $4.9 billion in 2010.
Protect the Environment
Starting with Adam and Eve, the original caretakers of the planet, the Bible makes clear that it is our job to protect the Earth and preserve it for the future. The scriptures charge humans with safeguarding the Earth and its creatures: "And the Lord God took the man and put him in the Garden of Eden to work it and take care of it" (Genesis 2: 15); "When you lay siege to a city for a long time…do not destroy its trees by putting an ax to them" (Deuteronomy 20: 19); "A righteous man cares for the needs of his animal" (Proverbs 12:10); "The time has come … for destroying those who destroy the earth" (Revelation 11:18). Major corporations, including McDonald's, Ford Motor Company and PepsiCo, have stated a commitment to environmental responsibility. Morgan Stanley's Environmental Policy Statement "recognizes the critical importance of a healthy environment to our global society, our economy, our business and our people."
Photo Credits
Jupiterimages/Photos.com/Getty Images