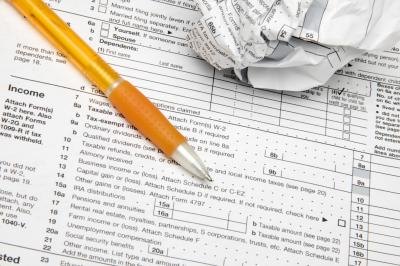 by Contributing Writer

Filing your federal taxes electronically -- also known as e-filing -- is the fastest and usually the easiest way to get your returns to the Internal Revenue Service. So it's easy to see why taxpayers file more than 100 million electronic returns each year. While the IRS doesn't charge a fee for electronic filing, it doesn't offer the service to everyone, and, as with electronic payments, prices vary by which provider you allow to handle the process for you.
Free File
If you're among the 70 percent of taxpayers with an adjusted gross income below $57,000, you qualify to use the IRS' Free File program. This software processes your returns based upon information you provide from tax forms such as your W-2 or 1099. If you qualify to use the Free File software, it prepares and calculates your taxes free of charge and submits your return directly to the IRS electronically.
Fillable Forms
If your AGI exceeds $57,000 you can still file electronically through the IRS, though you use its Free File program. Instead, you'll need to use the IRS's Fillable Forms, which are electronic versions of the paper forms you complete and submit in a traditional paper filing. While Fillable Forms provide basic arithmetic help filing your return, it doesn't help prepare your returns, so you'll need to be comfortable completing your return on your own to use them. Once you complete your Fillable Forms return, submit it electronically to the IRS at no cost.
E-File Options
If you don't feel comfortable preparing your own taxes using Fillable Forms, or feel that Free File software doesn't meet your needs, you can still electronically file your taxes, but you'll need to seek the services of a professional tax preparer or buy an off-the-shelf tax software package. Although the IRS doesn't charge extra for e-filing in this method, you'll need to purchase software or pay a preparation service to submit it.
Electronic Payments
If you owe the IRS money after filing your return, you can make electronic payments. The IRS allows taxpayers to transfer a balance from their bank account directly to pay a bill at no charge, although your bank might levy a fee for the electronic transfer. You can also use your credit or debit card to pay your bill, though the IRS doesn't handle those transactions directly. You'll need to make the payment at one of a handful of third-party service providers. While the IRS doesn't assess charges for credit card purchases, the service providers do. These fees vary according to the service provider and how much you owe.
Photo Credits
Creatas/Creatas/Getty Images