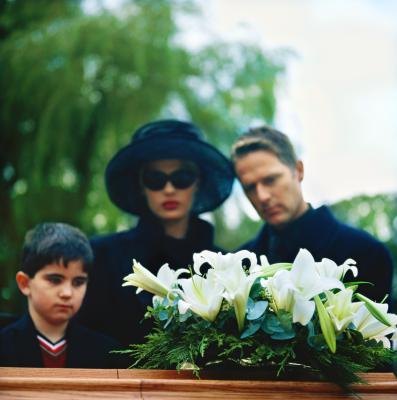 by Contributing Writer

The funeral committal is much like its name suggests; it is the committal of the body to its final resting place. It's an optional part of the funeral in which the casket is lowered into the ground. The graveside service is a hard one for many people because it is the time of interment, and the reality of the loss can really sink in. Practicing perfect etiquette shows your respect for the bereaved.
What to Wear
Since the committal is typically held in conjunction with the funeral service, the same dress code applies. Respect whatever wishes the family specifies for attire because many people now request "no black." If you don't know the preferences of the family or they haven't expressed any, wear dark or neutral colors and dress conservatively. It's important for all clothing worn to be clean and pressed.
Staying for the Committal
It's acceptable to leave before the committal, but you may want to stay to console the grieving family members if you are close to them. It is often a far more upsetting experience than people realize to see their loved one's casket lowered into the ground, and they will likely appreciate the support of having their friends and loved ones there. If you do want to leave prior to the committal, let the family members know and offer words of comfort.
Prayer
A prayer is said at the start of the committal. This can be a favorite prayer of the deceased or one that simply is chosen by the family. The pastor or priest may also offer a blessing. Unless instructed to do otherwise, remain seated and quiet during this part of the service.
The First Dirt
A family member or friend that the deceased person was especially close to has the option of shoveling the first dirt on the casket. It's an optional part of the service, and it's not rude to tell the funeral director that you prefer not to include it in the ceremony. Flowers may be tossed onto the casket after the first dirt. It's also an optional part of the ceremony, but it can be cathartic for the bereaved to send down the deceased loved one's favorite flowers.
Inclement Weather
Although bad weather may sometimes prevent a scheduled committal service at the graveside, committals typically continue on schedule at an alternate location such as a cemetery vault or chapel. It's not polite to miss the service because of rain or snow unless going would put your own safety at risk due to extreme weather conditions. When the committal service cannot take place at the graveside and the body is therefore held for future interment, the clergy of the deceased's church must be able to conduct the committal at interment when it does take place.
Photo Credits
Stockbyte/Stockbyte/Getty Images