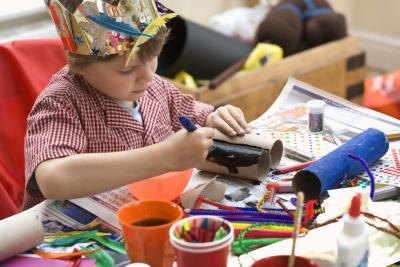 by Contributing Writer

Lemonade stands and newspaper routes are a thing of the past. Today, you can become an entrepreneur before you are old enough to drive. By tapping into your natural talents and resources that are available to you, you can raise funds for some holiday spending money or to raise awareness for a charitable organization. In the process, you can learn important skills, such as discipline, hard work and negotiating skills.
Host a Talent Show
Take the lead from famous shows on television and have your own talent show. Ask talented friends to help you put the show on yourselves and charge an entrance fee. As an alternative, have people at your school pay an entrance fee, give the winner a portion of the fees and keep the rest. If you are hosting the event, use a cheap place for the setting to keep costs down, such as your backyard. Hang signs up at your school and ask your parents to pass flyers out at work. Let your online friends know about your event, too. Ask a trusted friend to be in charge of selling tickets to the event. If you are performing, practice with your group several times before the main event. Ask a friend to record the performance on a digital camera or video camera so that you can sell the resulting DVDs for more cash. Rent a sound system from an event planning store and ask performers to bring in their own props.
Have an International Food Bazaar
If you love cooking, capitalize on your talent by hosting an international food bazaar. Ask some other talented chefs to help you create a meal of foods inspired by recipes from around the world. Ask your parents to help you secure a spot for your event, such as the family dining room or a small rented room. Invite friends, family and teachers to your special event. Include the meals on a menu that you print out, along with prices, or charge an admission fee to the event. Your parents or your friends' parents may be able to help you cook the dishes.
Teach Technology Skills
You may take it for granted if you can easily operate your cell phone, social media accounts and PC. Tap into your talents and capitalize on them by teaching other people about these skills. Offer to help set up an older relative's social media account. Download pictures, add contacts and teach the basic functions of programs. Ask your teacher if she would be interested in hiring you as a part-time assistant so that you can prepare her overhead presentations or create a classroom website.
Make Your Own Creation
If you have an artistic side and you love creating things, you can use these skills and interests while you become an entrepreneur. Make something that you enjoy creating, such as digital pictures, artwork, friendship bracelets, candles, jewelry or bookmarks. Get permission from the principal to sell these items before and after school and during breaks. Get ideas for items to make online or focus on selling seasonal items at craft fairs.
Work with Animals
Pamper the pets of teachers, friends, family and neighbors by having a pet boutique. Clean the dogs, dress them up in pretty costumes, add bows and paint their nails to give them the full experience. Take pictures of the dogs all dolled up and sell them to the dogs' owners. Host social events for animals, such as a "Howl-o-ween" party or costume ball. Host a pet contest with each participant's owner paying an entrance fee. Award ribbons for animals that win different categories you create.
Photo Credits
Jupiterimages/BananaStock/Getty Images