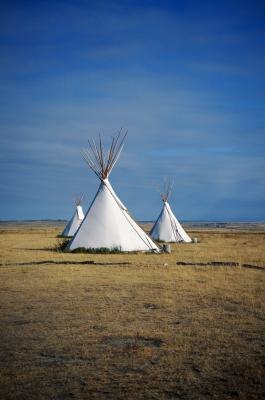 by Contributing Writer
The Episcopal Church has been present among indigenous American tribes for centuries. Its complicated history with Native Americans has, as Presiding Bishop Katharine Jefferts Schori recently wrote, "hardly been perfect," but the church in recent decades has extended significant resources to illuminating historical injustices and dealing with the generational impact it has created. It has entire ministries dedicated to native affairs, most notably in Alaska, Minnesota and the Western Navajo states.
Historical Context
Interaction between the Episcopal Church and native Americans can be traced to the first English settlers. Although complicated and multifaceted, the church has a fairly consistent record of solidarity with and activism for Native Americans during a period when destruction of native people and lands was largely justified by European Christianity. Manteo, a Croatan Indian, traveled to England in 1584 and is now an Episcopal saint. In 1862 Bishop Henry Benjamin Whipple of Minnesota appealed to Abraham Lincoln and saved the lives of 265 Dakota people who were scheduled to be hanged.
Repudiation of the Discovery Doctrine
The church has played a major role in negating the Discovery Doctrine -- a broad legal concept based on a series of early Supreme Court decisions that legalized land theft, relocation and extermination of native people -- and illuminating the generational impacts it created. Since at least 1976, the church has petitioned the U.S. government for native land rights, improved health care, religious freedom, preservation of burial sites and repatriation of remains and cultural resources.
Indigenous Ministries
The Episcopal Church has a dedicated chapter focused exclusively on Native Americans called Indigenous Ministries. Their stated goal is "the full inclusion of Native and Indigenous peoples in the life and leadership of the Episcopal Church." Its officer is Sarah Eagle Heart, an ethnic Lakota, who says the focus of the ministry is to address the issues of poverty, addiction, violence and isolation that plague the reservation community in numbers far greater than they do the general population.
The Episcopal Church in Navajoland
The Episcopal Church in Navajoland, or ECN, is a church mission that has served Native Americans in the South and Southwest since the arrival of missionaries in 1899. Headed by Bishop Dave Bailey, ECN covers 26,000 miles of Navajo reservation and is divided between three connected, yet distinct and separate regions -- which were once independent dioceses -- in several states. They are the Utah Region: Southeastern Utah to Monument Valley; the Southeast Region: Navajo Reservation, Ft. Defiance, AZ; and the New Mexico Region: Sacred Family Land, Northern New Mexico.
Photo Credits
Brand X Pictures/Brand X Pictures/Getty Images