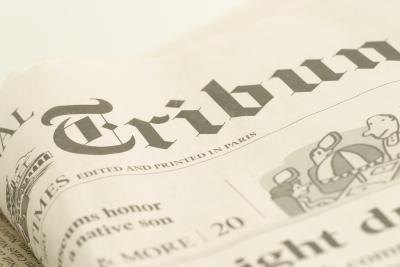 by Contributing Writer

A death notice is a brief, written announcement of a death. It is usually published in local newspapers shortly after the death. Death notices differ somewhat from obituaries in that they are much shorter and do not contain a lot of biographical information. In general, death notices are meant to inform the general public of the death and the date and time of the funeral or memorial service.
Purpose
Death notices are not a summary of the life of the deceased. That is the purpose of an obituary. Rather, they serve to notify the general public, including co-workers and friends of the deceased, of the passing of the loved one, as well as when and where the memorial service will be held. This allows people to make plans to attend -- if the general public is invited -- and also to send their condolences to the family in care of the funeral home.
Timing
Death notices are usually composed during the funeral preparations. The funeral director often helps the family write the death notice, or provides the family with a general template they can follow. The notice is then published in the local paper in accordance with submission deadlines and the timeline of the paper. Many local papers are only published weekly, so in some cases, the death notice may not be published for more than a week after the death. Unlike obituaries, death notices are often published free of charge.
Content
There are no hard-and-fast rules for death notices, but etiquette dictates that at the minimum, the name of the deceased, date of death and location and time of the service should be included. Often, the names of close family members are included as survivors. Sometimes, the occupation of the deceased is included, or the cause of death is mentioned. To keep death notices from sounding too clinical, adjectives may be used to convey feelings of sympathy and kindness. For example, the deceased may be referred to as a "beloved grandfather," or the notice may state that the deceased "fought a brave battle" with cancer. Sometimes, charity information may be given, if the family prefers that donations be made in the name of the deceased in lieu of flowers. A photo may also be added with the text. Finally, be sure to include whether the memorial service or funeral is open to the general public.
Structure
Begin with the name of the deceased, as this is the most important information. Then, list the date of death, followed by the time, location and cause of death, if desired. Some death notices also include the person's age. After that, the family members should be listed, starting with the spouse and then the children and extended family members. Conclude with the funeral information. You might also wish to list the life accomplishments of the deceased and special thank-yous, but such information is usually placed in the obituary and not in the death notice.
Photo Credits
Jupiterimages/Photos.com/Getty Images