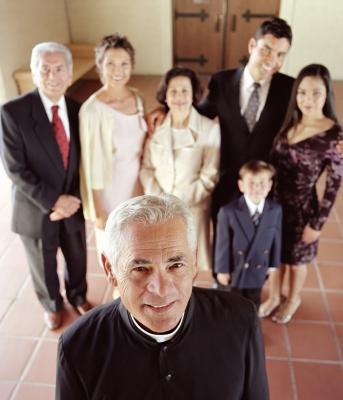 by Contributing Writer

As recently as 1963, the Catholic Church expressly forbid cremation, so cremation procedures were nonexistent until the Vatican revised its modern religious doctrine. Prior to the change in church politics, cremation was perceived as a desecration of God's image. Even today, the church strongly prefers burial If a Catholic must be cremated, the church regulates burial of the ashes; for example, they cannot be scattered, or placed on public display.
Cremation procedures within canon law
In the early days of the church, it rejected cremation because of an interpretation of Scripture stating that man was made in God's image; if a corpse were cremated, it would be a blasphemy against God's image. The practice was also rejected due to an association with pagan religions. In 1886, the Roman Catholic Church officially prohibited cremation. Even after modifications to papal law in 1963 allowed cremations, the church made clear that burial remained the preferred method of human interment.
Catholic Church continues to encourage burial over cremation
Although the Catholic Church continues to encourage burial, it no longer denies the funeral liturgy to a cremated parishioner. If a deceased person must be cremated, the ashes are treated with the utmost respect, and after receiving a traditional Catholic funeral liturgy, should be buried in a grave or placed in a mausoleum. Just over a quarter of a century after the Vatican lifted the cremation ban, the church further modified its edicts to allow for the cremated remains to be present at a funeral mass.
Ashes treated with same reverence as deceased human body
As of 1997, revised liturgical norms allow pious Catholics more postmortem options than they had enjoyed for centuries, but regulations remain. According to church decree, ashes are to be treated with the same reverence as if they were an intact corpse. To receive a Catholic funeral, ashes must be buried; the church expressly forbids scattering or spreading. The church also prohibits distributing ashes among friends and family members of the deceased.
Why scattering ashes violates papal law
Why the ban on scattering or distributing ashes? According to a public statement in 2010 written by Archbishop Michael Sheehan of Santa Fe, "Such practices do not give honor to the body and, indirectly, are an affront to our belief in the resurrection of the dead." Similarly, keeping the ashes at home in an urn to feel a sense of closeness with the departed "shows a lack of faith in the communion of saints, by which we are spiritually united to the departed, in a way far more marvelous than keeping their remains on a shelf in our house."
Photo Credits
Digital Vision/Digital Vision/Getty Images